Here at Fireside, we understand that when you pay for SEO services, you want to know how long it will take to see results. After all, isn't it the results you're spending money to see? However, with SEO results are rarely instantaneous.
Here is what you can expect when choosing SEO services from Fireside Creative:
When to Expect Higher Search Engine Rankings
We wish there was an easy answer as to when you can expect to rank higher for targeted search terms. However, the reality is that timeframe depends on multiple factors. You can expect to wait a minimum of 3-4 months before you see results.
Some markets are more competitive and saturated on the web than others. For instance, law and insurance are two very competitive industries. Certain home services can also be very competitive. One factor that determines the competitiveness and saturation of a market include what other services and providers are advertised near your location. If your business is part of a competitive market, it can take longer to see significant results from your SEO campaign.
If your business offers services that are a bit more niche, it may be easier to outdo the competition. Even so, don't expect immediate results. Worthwhile SEO campaigns take time and effort.
Another factor is the area that you are targeting with your SEO campaign. Is it a local area market or a national one? This can make a big difference in how quickly you see ranking improvements. Local area campaigns are typically more focused, and therefore usually see quicker improvements. Targeting a national market takes longer, as the competition is larger.
The timing of campaign results is also affected by your current search engine rankings. If your business already has decent rankings, it can take more time and patience to move up the ranking ladder.
A recent study by Ahrefs found that webpages in the top 10 Google results averaged age 2 years or older.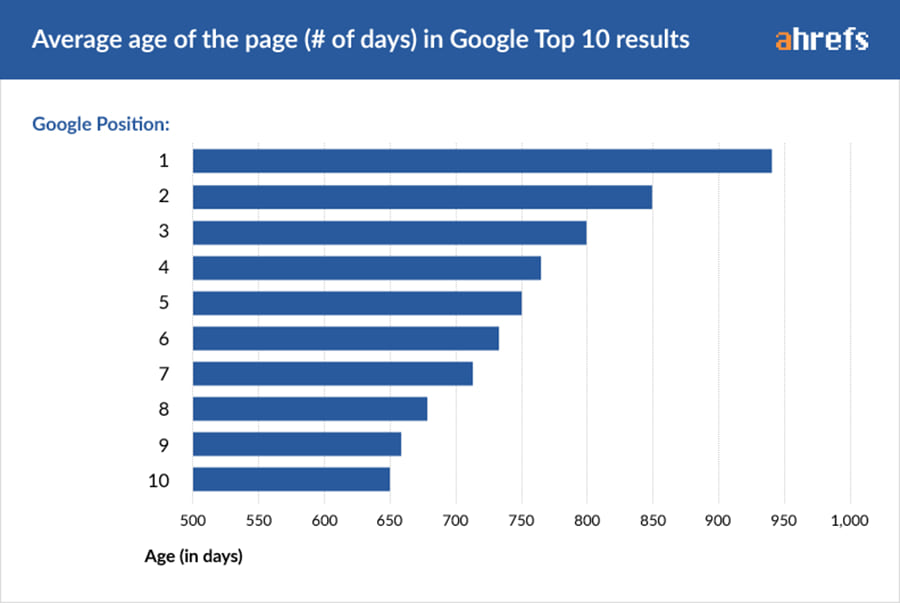 When will my SEO campaign lead to more leads or sales?
More leads and sales is a natural result of obtaining higher rankings for your targeted keywords. But, there is much more to increasing your leads or sales than simply higher search engine rankings.
Once you begin seeing more web traffic to your site, there are some important factors to consider for driving leads and sales. Not only does your website need increased traffic; It needs a streamlined way to convert this traffic into leads. This is where conversion rate optimization becomes comes in.
What is conversion rate optimization?
With conversion rate optimization, we tweak your website so that a larger percentage of visitors become leads or complete a sale. This takes into consideration your website's design and layout, calls to action on each page, the speed of your website, and its overall usability.
Google's Advice
Google released a video in February 2017 titled "How to Hire an SEO". This video explained that SEO isn't magic and gave suggestions for getting results:
In most cases, SEOs need four months to a year to help your business first implement improvements and then see potential benefit.
Four months to a year is a great guideline. It takes patience and investment to see results, but once you get there, it's so worth it.
A Real-World Example
Our clients experience varied success rates. We devote the same amount of passion and expertise to every SEO campaign. However, there are a number of factors that are not within our control. SEO campaign success grows at a special rate for everybody. On average, it takes a minimum of 3 months for our customers to achieve results. It takes closer to one year to achieve maximum results when working with an SEO agency.
Let's take a look at the web site traffic of a security systems company:

Although this company saw an initial spike in traffic, this leveled out and took almost a year to break through to another traffic tier. That half a green dot on the left axis is the traffic for January 2018. 
SEO Requires an Intense Amount of Patience
I'm sure you're heard the famous movie quote, "If you build it, they will come." With SEO, the quote would be "if you keep doing it, they will come." In order to get results, SEO takes an incredible investment of time.
There is one way to get results faster: PPC (pay per click). If you're starting out with a new website and you need traffic quickly, PPC is a worthwhile strategy for getting highly targeted leads. Many companies start out with a substantial PPC ad budget, then scale it down as their SEO campaign begins to drive more leads. PPC ads will become less important as you build your organic SEO leads.
Ready to start investing in your organic future with SEO? Let's chat.